CLAUDIO BARILE Y PAULA PELUSO, excelencia mayor

Read Commentary here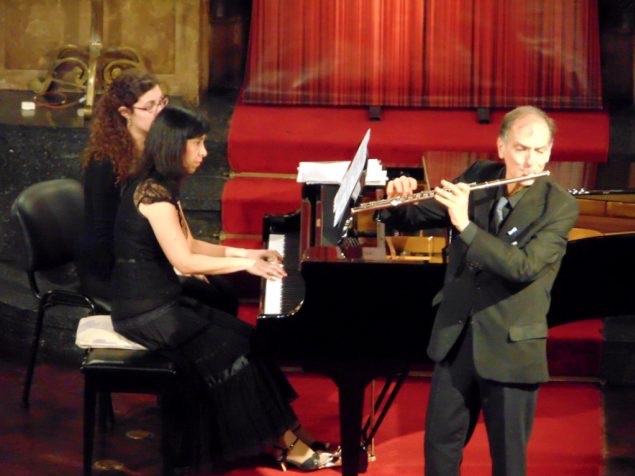 Como parte de los festejos por el Bicentenario de nuestra Independencia, la radio de música clásica Arpeggio (FM 89.5), que también cuenta con su emisión por televisión digital abierta, presenta durante todo julio un ciclo de conciertos de música de cámara con obras de compositores argentinos en el templo de la comunidad judía de Libertad 769. En este marco de belleza arquitectónica y fuerte simbolismo, que si bien está claramente asociado a lo religioso también invita a pensar en alguna conexión con la gesta de nuestra independencia, comenzó este ciclo de conciertos con un magnífico Claudio Barile, en flauta travesera, y una estupenda Paula Peluso, en piano, con piezas de tres argentinos emblemáticos: Alberto Ginastera, Alberto Williams y Astor Piazzola....more here










CL

AUDIO BARILE Y PAULA PELUSO
CLAUDIO BARILE
PERFORMANCES 2017


---
Thursday, May 18, 2017
Pendereky flute concerto Colon Theatre
PDF HERE


Alberto Ginastera:
Impresiones de la Puna with Camerata Bariloche
Sunday 20 November at CCK (19 hs)
Alberto Ginastera:
Impresiones de la Puna
with Camerata Bariloche
Tuesday, November 22
in Cordoba, Royal Theatre.
---
---
Mtro. Charles Dutoit in a brake on the stage of the colon theater learning to play the flute...
(2004)


Photos: Arnaldo Colombaroli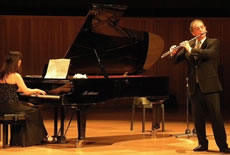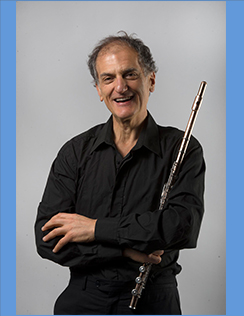 Sir James Galway & Claudio Barile
Best Classical Album 2012

VIDEO - Concierto Anton Bruckner Symphony no. 3 D minor en el Colón, 1979
-En este video se ve la primera parte del concierto Anton Bruckner realizado en el Teatro Colón de la Ciudad de Buenos Aires el 11 de julio de 1979.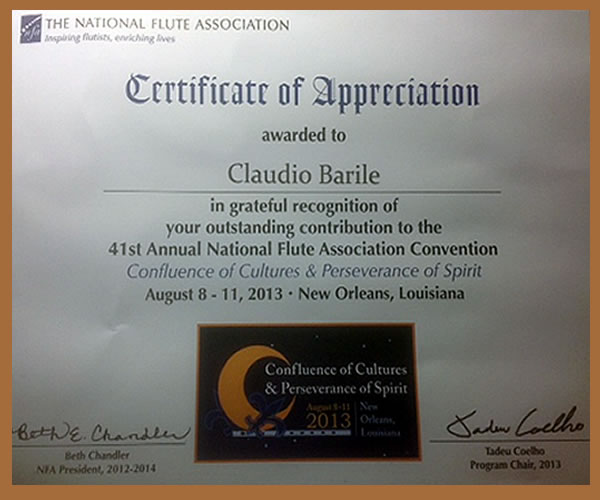 Award Photo by Carlos Furnman
Claudio Barile is recipient of the prestigious Carlos Gardel Award for Best Classical Album of 2012
for his CD of Piazzolla: History of the Tango for Flute and Piano and
Tango Etudes for Solo Flute.
Sample Album here